Gay Domination Phone Sex with Glenn
WHEEEEEE! Oh, my garsh, it was a hell of a week, Boys, what with Thanksgivin' and then a trip to Pennsylvania to git me a buck (got an eight-pointer), and we was late here plantin' our winter crops, and I tell ya, it plumb slipped my mind to take yer cock out of its cage afore I left the other day. But I ain't gonna fret too much. I mean, gay domination phone sex is all about the surrenderin' of control, Faggot, and don't you forget it!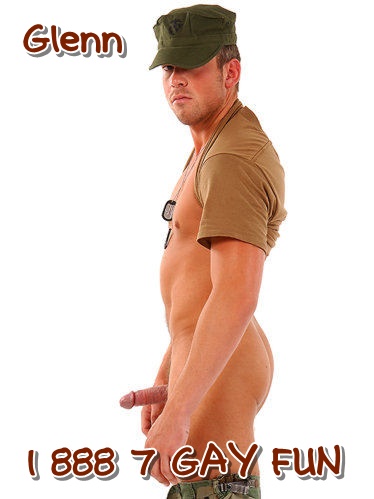 When you call ol' Glenn for gay domination phone sex, you'd best be hankerin' to party, Son! Git that dick out and put yer mind on pause, cuz I'll be doin' the thinkin' for both of us for the next few hours (or days!). Just shut up and throw on this leather teddy while I explain. Ya see, when it comes to…NO, Boy – turn it around! For criminy sakes, they're ASS-less chaps, not DICK-less. You're lucky you're hung, cuz ya ain't got sense enough to pour piss out of a boot with the directions printed on the bottom. Don't you go givin' me that look now, ya hear? You was happy as a dead pig in the sunshine when ya got to Uncle Glenn's House of Fun, but now it's dawnin' on ya – this ol' boy's got a few tricks up his sleeve! Speakin' of sleeves, stick this Chinese fingercuff on yer pecker for later. (Boy, I'll tell ya – them slanty-eyed bastards know how to git 'er done!)
But anyways, gay domination phone sex is my for-tay. Eight years in Uncle Sam's Travelin' Freedom Parade done taught me a thing or five about assertin' my natural superiority over all you sissy Mary's, how to whup ya into shape, and I promise ya – after a few sessions, givin' in to Glenn'll be as easy as slidin' off a greasy log backwards! Now, speakin' of greasy logs, stop cryin' and git me that K-Y and slather me up, cuz this bronco's ready to buck! YEEE-HAAA!
Call 1 888 7 GAY FUN and ask for Glenn for gay domination phone sex