Gay Phone Sex
Howdy, Boys! Who's ready to git 'er done? That's right – I'm talkin' about some amazin' fuckin' gay phone sex. My momma and daddy are always tryin' to fix me up with some daughter of their friends, and I can't tell ya how many fake dates I've been on that end really quick when I tell 'em my favorite hobby is gay phone sex. Most of 'em run for the hills, but that's their mistake, cuz they just might come upon me at my favorite tree with my buddy Skeeter bent over against an old wood pile and my cock deep in his pretty li'l bubble butt. I mean, c'mon – who wants some stinky ol' pussy when you can drive your tongue in some big black dude's hairy ass or take a sweaty farm boy's thick, fat dick deep in your throat and feel his nut bust all down your gullet???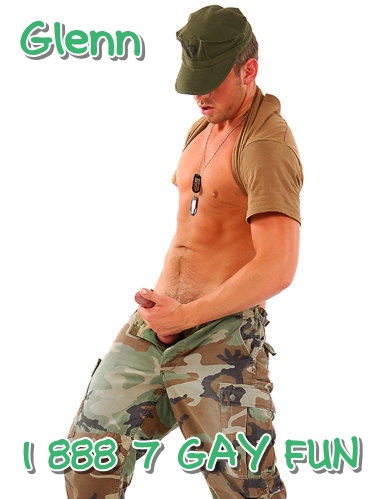 Skeeter's the one who let me know I was a fag. We used to be on the rasslin' team together, and when all the other guys was done with their shower, me and him was still in there, droppin' the soap and takin' our sweet ol' time. I can't tell ya how many matches I done lost cuz I was starin' off at the bench at the bulge in his rasslin' outfit. I swear, when that ol' boy bent over, I just about shot a load right there on the mat. I joined the Army to try and get all that faggoty stuff outta my head, and it just made it worse, cuz that's when I discovered gay phone sex!
So now I'm back home on the farm and wonderin' if'n it ain't time to find me a big-cocked stud to wifey or if I just wanna keep fuckin' around. In the meantime, I'ma keep doin' this here gay phone sex. Ain't nothin' gets my pecker a-throbbin' like listenin' to some dude on the other end of the phone yankin' his pecker, breathin' hard, beggin' ol' Glenn to make him my bitch. Gay phone sex ain't never been this good, Motherfucker, so stop bein' a pussy and call me!
1 888 7 GAY FUN and ask for Glenn
AIM: gag4_glenn