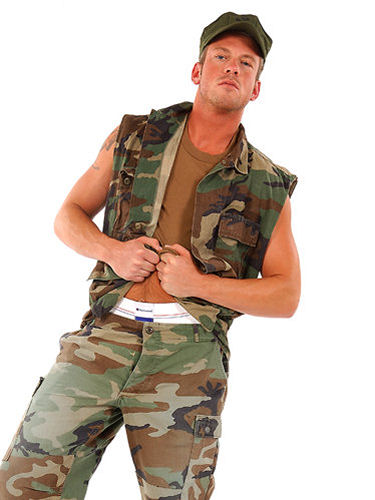 Hi guys! I'm Glenn, and I'm just the stud you've been looking for.
I'm a down-to-earth dude from the South, and I love a good time.
I grew up on a farm and made lots of friends. When one of them
decided to become a soldier, I figured I'd enlist too. I had
nothing else going on at the time. Then things started to change.
I had no idea that I would be into gay sex. I always dated girls before.
But when I joined the Army, I was surrounded by other strong good looking
young men like me, and we were letting our dicks swing around each other
like it was natural. It was so hot, I couldn't help but be turned on.
Then one night my buddy and I let another Private suck both of us off.
He was on his knees, going back and forth between our big cocks. I never
got so hard in my life. From then on, it was game on! I just had to
see what else I was missing out on. I discovered that gay and bi guys are
so horny with wet mouths and warm tight manly holes, greased for action.

One of my favorite things to do is to cream a guy's mouth with my intense
load right after I bang him deep and hard. I can't tell you the number
of times I've seen guys' eyes roll back in their heads out of ecstasy
when I give them the most insane facial they've ever had.

If you're looking for another guy to get you hard and get you off, then
you've found me. I'm your buddy for all your needs.
And I wanna drill you like you've never been drilled before. With me,
you get the real deal and more. I'll have you keep cumming back.
Let's talk tonight!