bisexual phone sex with wyatt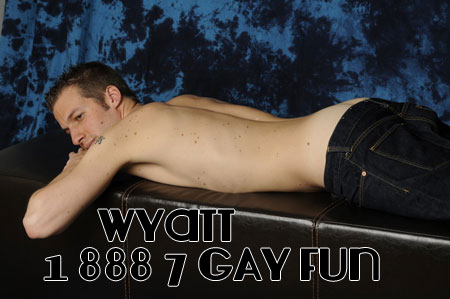 Have you ever wondered what it was like to suck cock or fuck a guy? Is that what you imagine sometimes when you're jerking off? I mean, you might still like pussy but it sounds like you're ready for some kinky bisexual phone sex fantasies with me!
What exactly do you imagine when you think about sucking dick? Do you think about a man (and I know you're probably imagining me, aren't you?) just laying back and letting you go to town on my gorgeous dick? Do you want to just do your thing and learn to suck cock on your own? Do you want to just be allowed to lick and suck slowly and then get more aggressive on your own? Or maybe you want me to just grab your head, shove it down and tell you to open your fucking mouth and suck my dick. I am good with that, too. Sometimes a little rough face fucking is just what the doctor ordered. I'm sure that once you experience it, you're totally going to agree with me.
But I really hope that you've been practicing fucking your virgin ass with a dildo or something because I am really not very good at holding back when it comes to fucking. It just feels so damn good and I just will not be able to stop myself from fucking you really hard and really fast. It won't even matter if you cry out and tell me it hurts. I'm just going to keep fucking you harder and deeper until I shoot my load in your ass. And then, if you're a really good boy, I'll let you lick my cum off of my dick. No need to waste it.
If you're ready for some wild and kinky bisexual phone sex fantasies, give me a call at 1 888 7 GAY FUN and tell them you want to talk to Wyatt