gay phone sex with big ryan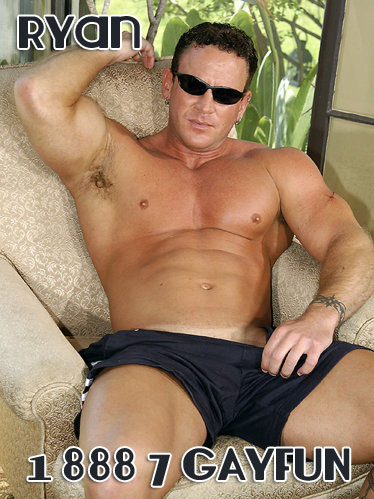 What's up guys?  I'm here today to inform you on just how much I love gay phone sex.  I am a man who, in my early years, was initially attracted to women.  While the sex was good with the women, i quickly found myself looking at the man in the porn more than the women.  That quickly turned into me watching gay porn and other men jack off.  My first gay phone sex experience really helped to push me to the next level.  I went from only having sex with women, to only having sex with men.  I enjoy another mans body, all of it.  And that goes for sissy panty boys to muscular wanna-be straight men.  I have a big dick that I like to forcefully use on a sexy man slut.  I will only have my way when it comes to sex and I will do whatever it takes to get that, even if that means getting a little rough with a slut like you.
Even though I'm a very dominant man when it comes to gay phone sex, I am a very open and versatile man at the same time.  Not only do I enjoy ramming my big dick down your throat and deep into your tight man pussy, I also enjoy other sexual acts with a man.  I'm a real sex freak and I do it all.  I also enjoy pleasing your cock for you.  If you're a good slut and give me what I want in the beginning, I'll gladly drop to my knees and suck your dick real fucking good.  And once I have it nice and hard, I'll make you tongue fuck me ass before I start riding your thick man dick.  As long as we're having some sort of hot man on man action, I'm hard and ready.  Gay phone sex with me is as good as it gets.